Special Time in The Year at St. Vitus: Christmas Season.
December 4, 2021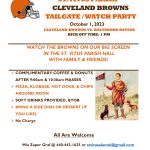 Browns Tailgate Party: Sunday, October 1, 2023
September 22, 2023
St. Vitus Parish is observing the 130th Anniversary of its founding. Five generations of faithful, Slovenian immigrants and their descendants found safety, spiritual nourishment, friendship, and consolation here. For this we say, "Thank you, Lord!"

We will celebrate this milestone with an All-Parish Mass on Sunday, October 8, 2023, at 10:00 A.M. in St. Vitus Church. On this occasion, our pastor, Fr. John Retar, will also thank God, and acknowledge his 20th Anniversary of ordination to the priesthood. We will give thanks to God for the many blessings bestowed upon thousands of individuals over the past 130 years. A social (by invite only) will follow the Mass with light food and refreshments in the St. Vitus Hall, located directly across the street from St. Vitus Church.

Please remember to complete and return the invitation card you received by October 4th so that we may properly prepare for the Mass and social. You may return it via USPS, drop it in the weekend collection basket, or bring it to the parish rectory. If you have any questions, please call the parish rectory, (216)-361-1444.

SPECIAL REQUEST: To all who have the Slovenian national costume, please come to the Mass in your nošas.
Thank you!