LEARN MORE ABOUT St. VITUS CHURCH & PARISH
St. Vitus Church offers many opportunities for worship
Scheduling Masses is on a first-come, first-served basis. The parish can be reached by phone at
216-361-1444
for all Mass scheduling needs and inquiries.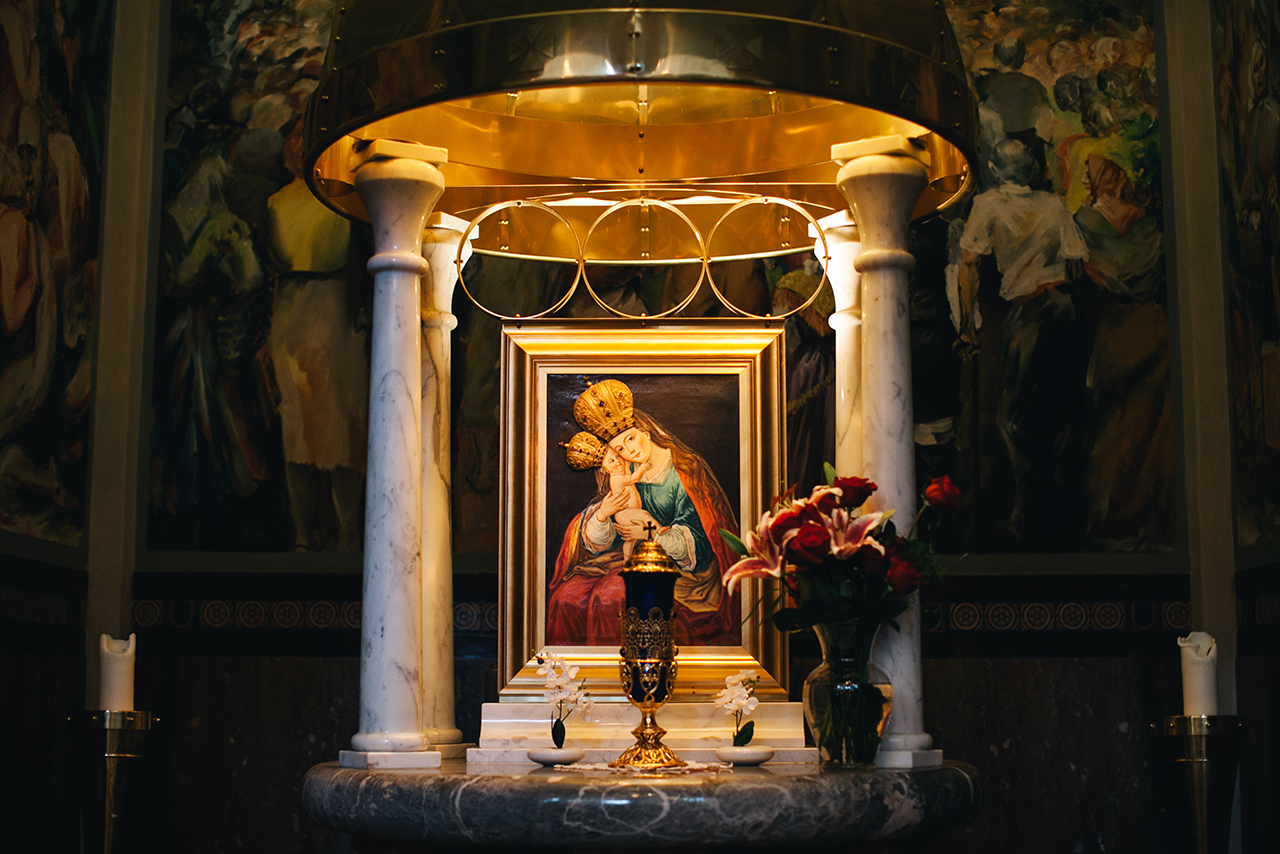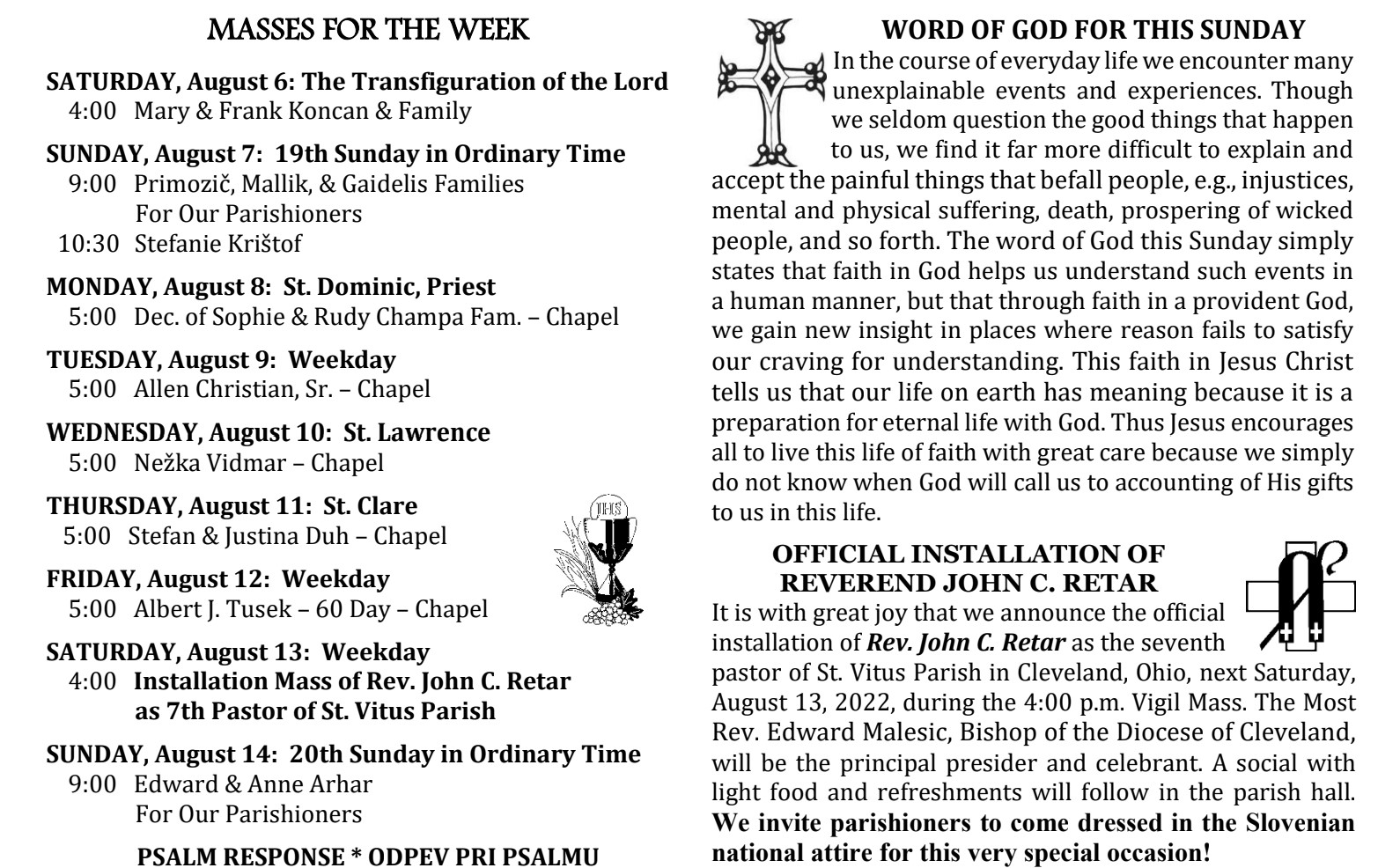 For a more comprehensive look at our seasonal schedule, please view our weekly bulletin or recent news posts detailing any upcoming masses & events.
WEEKEND MASSES
SATURDAY
4:00PM – Vigil Mass
SUNDAY
9:00AM – (English) 10:30AM – (Slovenian)
DAILY MASSES
MONDAY to FRIDAY
5:00PM – St. Vitus Chapel See the parish bulletin for any additional times.
HOLIDAY MASSES
SACRAMENTS
During Lent & Advent, our Mass schedule changes to reflect each holy season. Please check back near Easter & Christmas for new schedules.
For those looking to schedule any of the below Sacraments with St. Vitus Church, please call the parish office at 216-361-1444.
Baptism
First Communion
Reconciliation
Confirmation
Marriage
Anointing of the Sick
Baptism
All parents are welcomed and encouraged to bring their children to the Sacrament of Baptism. You are accepting the responsibility of training your children, as their first teachers, in the Catholic faith by participating each Sunday in the Eucharist and receiving the sacraments; you are encouraged to participate in the Sunday liturgy as a family. If you have been away from the Church, this would be a good time to celebrate the Sacrament of Reconciliation and return to the practice of your faith. If you have not been married in Church, you are encouraged to begin that process.
Parents are asked to arrange for the baptism of a newborn child at least one month prior to the desired date and, at that time, have all necessary documents in place; contact the parish secretary at 216-361-1444. A baptism should be scheduled with the Pastor, including participation in a training session to prepare for your child's baptism. Baptisms usually occur on a Saturday after the Vigil Mass or on a Sunday after morning Masses.
Baptismal Sponsor
A child to be baptized requires a sponsor (i.e., godparent) who, together with the parents, will present the child at Baptism and help the baptized lead a Christian life. Only one male or one female sponsor, or one of each sex, is required by Canon Law (Canons 849-878).
A sponsor must be at least 16 years old, a baptized Catholic who has been confirmed, someone who has received the Eucharist, and someone who leads a life in harmony with the Faith and the role to be undertaken. If married, the sponsor must be married in the Catholic Church. A sponsor may not be the father or the mother of the one to be baptized.
A baptized person who belongs to a non-Catholic Church may not be admitted as a sponsor but may serve as a Christian witness to Baptism, and then only with a Catholic sponsor. All sponsors, including St. Vitus parishioners, must obtain a letter of recommendation from their parish to be turned in to the Rectory Office. All necessary documents must be turned in before the baptism can be scheduled.
First Communion
Reconciliation
Confirmation
Marriage
Anointing of the Sick
SINGING OF LITANIES
Typically occurs at both Christmas and Easter.
EUCHARISTIC DEVOTION/40 HOURS
This is a specific period of time set aside for continuous prayer, during which the Eucharist is exposed in a monstrance for adoration. This devotion begins with a Mass followed by continuous adoration over a 40-hour period, and ends with a Mass and Benediction.
TENEBRAE
Latin term meaning "shadows" or "darkness." This is a religious service celebrated the evening before Holy Thursday. A series of readings & psalms (in English, Latin & Slovenian) are read or sung during the service while a gradual extinguishing of candles occurs. This service usually starts at dusk (7-7:30PM).
EXPOSITION OF THE BLESSED SACRAMENT
Occurs each Friday from 1:00PM-4:00PM in St. Vitus Village Chapel, followed by 4:30PM Mass. All are encouraged to come and pray before the Blessed Sacrament.