LEARN MORE ABOUT ST. VITUS CHURCH & PARISH
HISTORY
The story of St. Vitus Church, its community, construction & patron saint
PASTORS
A list of all the pastors who have served St. Vitus Church, past & present.
REV. JOHN C. RETAR
Pastor, St. Vitus, July 1, 2021 – Present
Ordained on May 17, 2003, Diocese of Cleveland
(by Bishop Anthony Pilla)
REV. JOSEPH P. BOŽNAR
Pastor, St. Vitus, June 27, 1979 – June 30, 2021
Born Mar. 19, 1944, Pristava, near Polhov Gradec, Slovenia
Ordained on May 30, 1970, Diocese of Cleveland
REV. A. EDWARD PEVEC, PH. D.
Pastor, St. Vitus, May 1975 – May 1979
Born on Apr. 16, 1925 in Cleveland, Ohio
Ordained on Apr. 29, 1950, Diocese of Cleveland
Appointed Titular Bishop of Mercia and Auxiliary Bishop of Cleveland, Apr. 13, 1979; Consecrated July 2, 1979; retired, Sept. 1, 2002
Died on Dec. 14, 2014
REV. RUDOLPH PRAZNIK
Pastor, St. Vitus, Sept. 9, 1969 – Mar. 3, 1975
Born on March 13, 1914 in Dolenje Jezero pri Ceknici,
Notrajskem Region, Slovenia
Ordained in May 1940, Diocese of Cleveland
Died on Mar. 3, 1975
MSGR. LOUIS B. BAZNIK
Pastor, St. Vitus, Apr. 9, 1952 – Sept. 9, 1969
Born on Dec. 13, 1907 in Cleveland, Ohio
Ordained on April 23, 1935, Diocese of Cleveland
Died on Mar. 7, 1993
MSGR. BARTHOLOMEW J. PONIKVAR
Pastor, St. Vitus, Aug. 2, 1907 – Mar. 30, 1952
Born on Aug. 21, 1877, pri Fari st. 1, parish of Bloke
in the Notrajskem Region, Slovenia
Ordained on June 12, 1906, MN
Died on Mar. 30, 1952
MSGR. VITUS HRIBAR
Pastor, St. Vitus, Aug. 1, 1893 – Aug. 2, 1907
Born on Mar. 29, 1870, Zgornjem Tuhinju, Kamnik, Slovenia
Ordained on July 29, 1893, Diocese of Cleveland
Died on May 26, 1956
THE FOUNDING OF ST. VITUS CHURCH
During the early 1880s, the first permanent Slovenian immigrants, of whom, Jožef Turk is considered to be the first, arrived in Cleveland, Ohio. Turk arrived on Oct. 25, 1881, and was followed by approximately 50 Slovenian young men. The primary purpose to immigrate was for economic reasons: Slovenia at that time was a province in the Austro-Hungarian Empire in Europe, and a predominantly agrarian society. The Slovenian community in Cleveland, Ohio grew over the next 10 years and encouraged a young seminarian, Vitus Hribar, to respond to the call to come to America and conclude his studies. He would serve the needs of the Diocese of Cleveland.
On July 29, 1893, he was ordained a priest in the Roman Catholic Church by Bishop Ignatz Hortsmann. On August 11, 1893 he was commissioned with the task of establishing the first American Slovenian Roman Catholic parish in the state of Ohio and the Diocese of Cleveland. The first worship services were held in the chapel of St. Peter Church, located at East 17th Street & Superior Avenue, which was, at that time, serving the needs of German Roman Catholics. Over the next 14 years, Rev. Hribar, who would eventually receive the title of "Monsignor," would go about the task of meeting the spiritual, cultural, educational, and social needs of Slovenian immigrants in Cleveland, Ohio.
Land was purchased on June 29, 1894 at the corner of Norwood Road and Glass Avenue (now Lausche Avenue) for $6,000. On Oct. 14, 1894, Bishop Hortsmann blessed the cornerstone, and on November 4, 1894, Monsignor Boff consecrated the new small wooden church. At the request of the 65 families and nearly 1,000 single young men, the new church would be named "St. Vitus Church" in honor of the patron saint of Reverend Vitus Hribar.
The wooden church was expanded in 1902 and a new wooden elementary school was established. This was made possible by the arrival of the Roman Catholic religious women's order, the Sisters of Notre Dame, who responded to the call to be teachers for basic academic subjects of study, including the Slovenian language, from grades one to eight.
ST. VITUS SCHOOL & NEW CHURCH
In July 1907, Rev. Hribar was assigned to St. Augustine Parish in Barberton, Ohio, while Rev. Bartholomew J. Ponikvar was installed as the second pastor at St. Vitus. Rev. Ponikvar was an immigrant seminarian who had concluded his priestly studies at a seminary in St. Paul, Minnesota. He was born on Aug. 21, 1887 and was ordained on June 12, 1906. His first task was to address the growing needs of the parish: by 1907, the once primarily single men were now married with their own families, numbering roughly 1,000 families. Rev. Ponikvar was faced with the reality of needing both a new church and a school building with funds being available to build only one structure.
In 1912, a new three-story modern brick school was built with a chapel in the basement area. The 18 classrooms could now accommodate 700+ elementary school-aged children, but with more than 1,000 students, other buildings in the immediate neighborhood would also be needed over the next decade.
The new church edifice would be realized, but construction would not start until 1930, at the height of the Great Depression. The new St. Vitus Church, a Byzantine-Lombard design with twin bell towers and three choir lofts, was completed in 1932. The church featured an orchestral sounding pipe organ, built by the Holtkamp Organ Co., Cleveland, Ohio. With 1,500 wooden and metal organ pipes, and the materials used in the church, the new church pipe organ could now provide a distinct orchestral sound.
Rev. Ponikvar would eventually receive the title of "Monsignor" due to his zeal for moving the parish forward and establishing many parish organizations. His total tenure at St. Vitus lasted 45 years until he passed away in March 1952.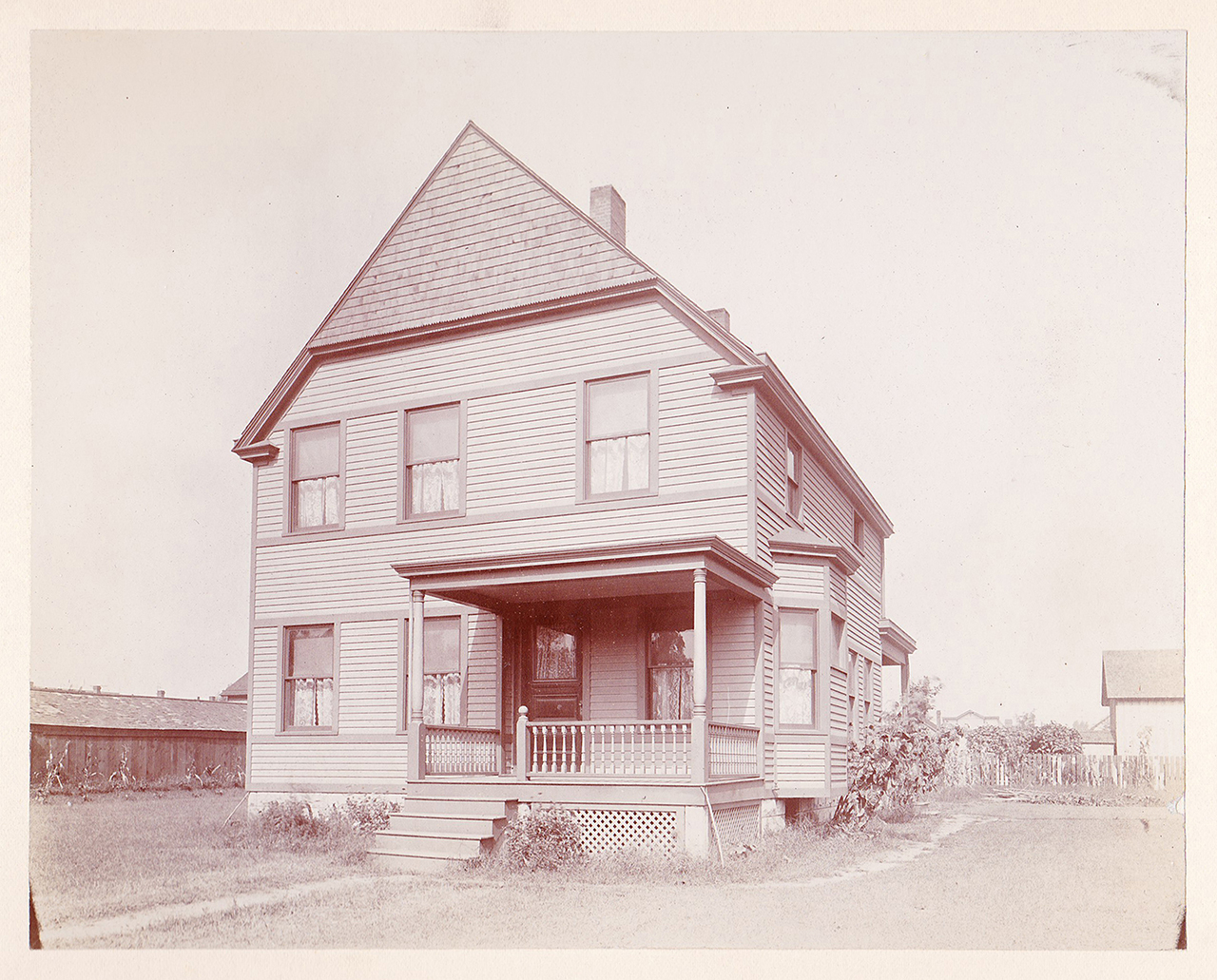 PARISH CONVENT
The third pastor at St. Vitus, Louis B. Baznik, was born into and baptized in the parish. He was ordained on April 23, 1935 and served his first priestly assignment at St. Vitus' sister Slovenian parish, St. Lawrence, in the Newburgh area of Cleveland, Ohio. In 1944, he was assigned as a chaplain in the U.S. Armed Forces. In 1952, he was appointed as the third pastor of St. Vitus. Reverend Baznik would revive or establish a number of parish organizations as well as spearhead the construction of a new combined parish auditorium-gymnasium in 1957.
He oversaw the construction of a new parish convent in 1963 for the Sisters of Notre Dame. After faithfully serving his home parish for 17 years, and at the conclusion of the parish Diamond Jubilee, in September 1969, Msgr. Baznik was assigned to St. Patrick Parish.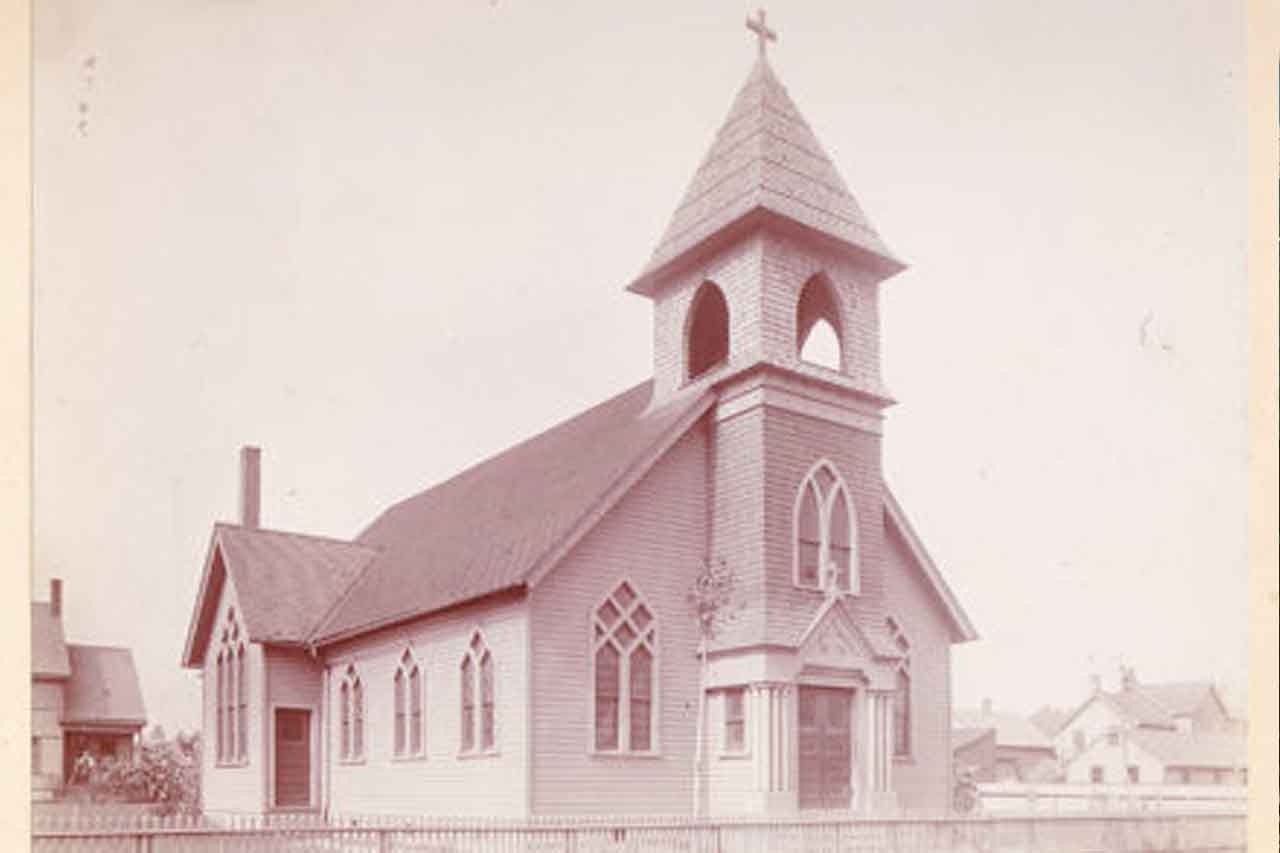 NEW PASTORS & CHURCH RESTORATION
Rev. Rudolph Praznik was appointed as the fourth pastor of St. Vitus in October 1969. He suffered from declining health, primarily due to diabetes, which caused other ailments including that of heart and eye-sight. In February 1975, he was admitted to the hospital and passed away the following month.
Rev. A. Edward Pevec, also born into the parish, was installed as the fifth pastor on May 2, 1975. Fr. Pevec was, at heart, an educator, and received his doctorate in education at Case Western Reserve University, Cleveland, Ohio. Excluding his first assignments at St. Mary Parish (Elyria, Oh.) and St. Lawrence Parish, the majority of his priestly career took place at either Borromeo High School, where he served as the assistant principal and vice-rector, or Borromeo College of Ohio, where he served as Rector. Fr. Pevec remained at St. Vitus until May 1979 when he was appointed to Borromeo College. In July 1982 he would be consecrated as an auxiliary bishop, Diocese of Cleveland, and remained in that capacity until his retirement.
Rev. Joseph P. Božnar was appointed as the sixth pastor at St. Vitus in May 1979. Fr. Božnar was ordained as a priest for the Diocese of Cleveland in May 1970. His first priestly assignment was at St. Felicitas Parish, Euclid, Ohio. In 1972, he was appointed as associate pastor at St. Vitus and remained in this capacity for the next seven years until being named pastor in 1979.
Fr. Božnar's tenure as pastor has seen the total restoration of the interior of St. Vitus Church, which was completed in its Centennial Year in 1993. He has overseen the installation of a new rose colored clay tile roof, which replaced the original clay tile roof, and accompanying tasks on the outside of the church building; complete restoration of the historic church & Holtkamp pipe organ; the establishment of the St. Vitus Alumni; and the new senior ministry program.
In 2000, after seven years in the making, construction began on St. Vitus Village, a new three-story facility for independent living for seniors. This was the first such concentrated new housing project in the St. Clair Avenue neighborhood since the end of World War II. The parish food bank and hot meal programs also began under the spiritual direction of Fr. Božnar. His last day as pastor was June 30, 2021.
Rev. John C. Retar was appointed as the seventh pastor of St. Vitus Parish, effective July 1, 2021.
His first assignment was as associate pastor of St. Mary's Parish, Berea, Ohio from 2003-2007 and associate pastor of St. John Vianney Parish, Mentor, Ohio, 2007-2010. In August 2010, he was installed as pastor of St. Frances Xavier Cabrini Parish in Lorain, Ohio, a merged parish of three former Lorain Catholic parishes: Ss. Cyril & Methodius (Slovenian), St. Vitus (Croatian) and St. John Baptist (Spanish). For the past two years or so he was also the parish administrator of St. Vincent de Paul Parish, Elyria Township, Ohio.
Fr. Retar is the son of the late John A. Retar Sr. and Laura (nee Fox). His father was a WWII US Army Veteran who served in the 13th Armored Division. He is the brother of Jeffery (Kimberlee) and the late Brian (Kristen) and nephew of Mary Yuhas (late John). Fr. Retar was employed in private industry as a purchasing agent prior to deciding to enter the seminary. Fr. Retar is also a member of St. Anne Lodge #4 AMLA.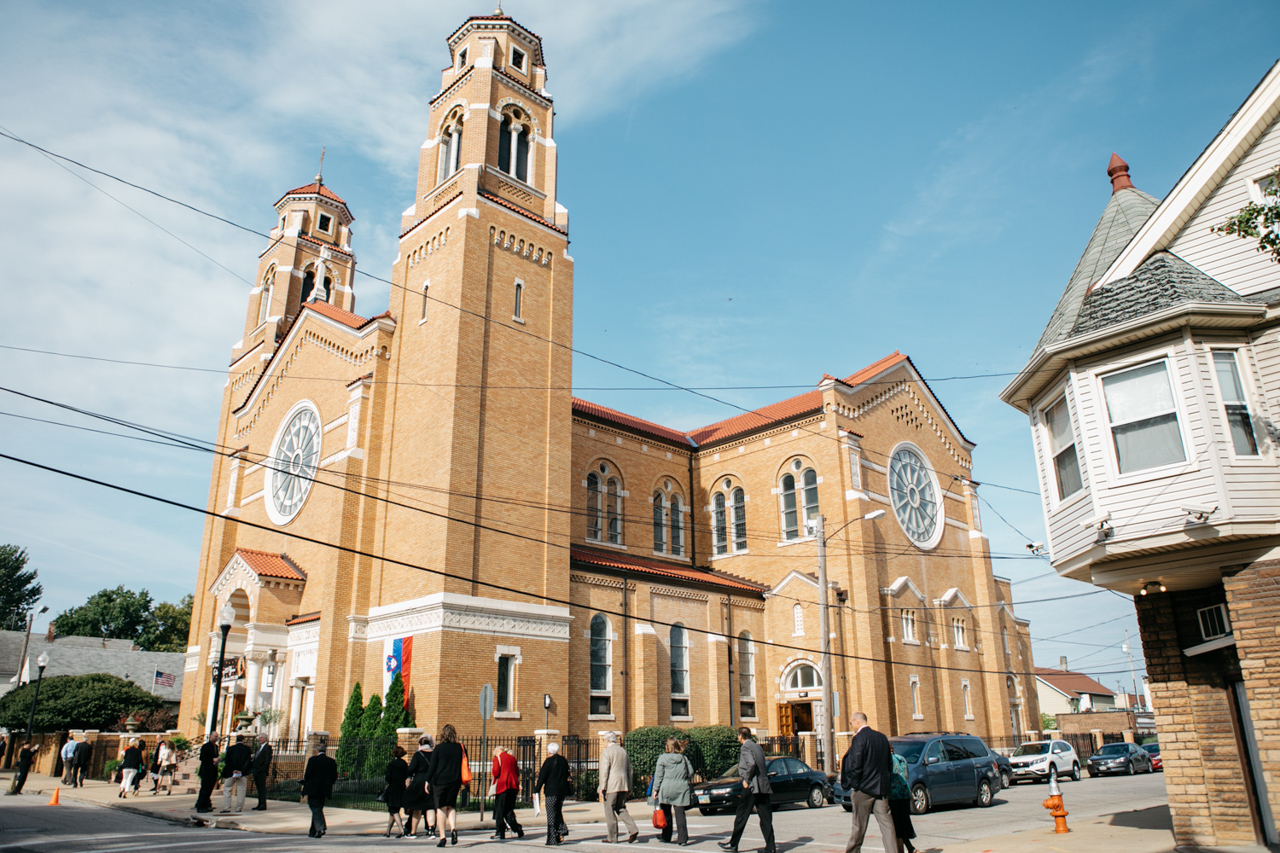 THE LIFE OF ST. VITUS
The veneration of this saint goes back to very early times: his name, along with Modestus and Crescentia, appear in the so-called martyrology of St. Jerome, and it is believed that they were actual Christians who gave their lives for the faith. Nothing is known of their true history or the circumstances of their martyrdom, as the information about their lives is based on popular legends.
Vitus, also called Guy, belonged to an illustrious family. He was instructed in the faith by his Christian nurse Crescentia, and her faithful husband, Modestus. His pagan father, Hylas, learning that Vitus had been baptized, became extremely angry, and strove by stripes and other punishments to make him give up Christianity. As he was unsuccessful, he delivered his son to Valerian, the Governor, to be scourged and tortured in other ways, but Vitus remained steadfast in the faith.
Eventually with the help of Modestus and Crescentia, he escaped to Lucania in Italy. There his holiness became so famous that Diocletian, the Roman Emperor, had recourse to him to deliver his son who was tormented by the devil. Vitus cured the boy but Diocletian was not grateful. When he failed to induce the saint to worship the Roman gods, he caused him to be arrested with Modestus and Crescentia. They were subjected to cruel tortures at Rome, but they refused to give up the Christian faith. An angel brought the martyrs back to Lucania, where they died of the tortures they had endured. This happened around the year 303 when Vitus was about 12 years old.
St. Vitus is represented near a kettle of boiling oil, because according to a legend, he was thrown into such a kettle, but miraculously escaped unharmed. He is invoked against mental and nervous disturbances and associated body ailments. The feast of St. Vitus is Celebrated on June 15th.
(The sources for the life of St. Vitus are based on Butler's Lives of the Saints and the Catholic Encyclopedia.)