LEARN MORE ABOUT ST. VITUS CHURCH & PARISH
An integral part of the culture & spirituality at St. Vitus Parish
For over twenty years, members of both parish choirs as well as choir members of sister parish, St. Mary Church, in the Collinwood neighborhood of Cleveland, or any individual who loves to sing sacred Christmas songs, come together to perform a "Christmas Concert of Sacred Songs," usually held on the Sunday following Christmas Day. Approximately 50-60 people, under the direction of choirmaster John Srsen, perform sacred songs of the Christmas season in English, Slovenian, Latin, and occasionally, Italian.
The Christmas Concert Choir is accompanied by a professional organist as well as professional string musicians. An all Parish Mass precedes the "Concert of Christmas Sacred Songs" to enable families to come together after a hectic Christmas time to pray and worship, which is followed by an hour or so of sacred Christmas songs.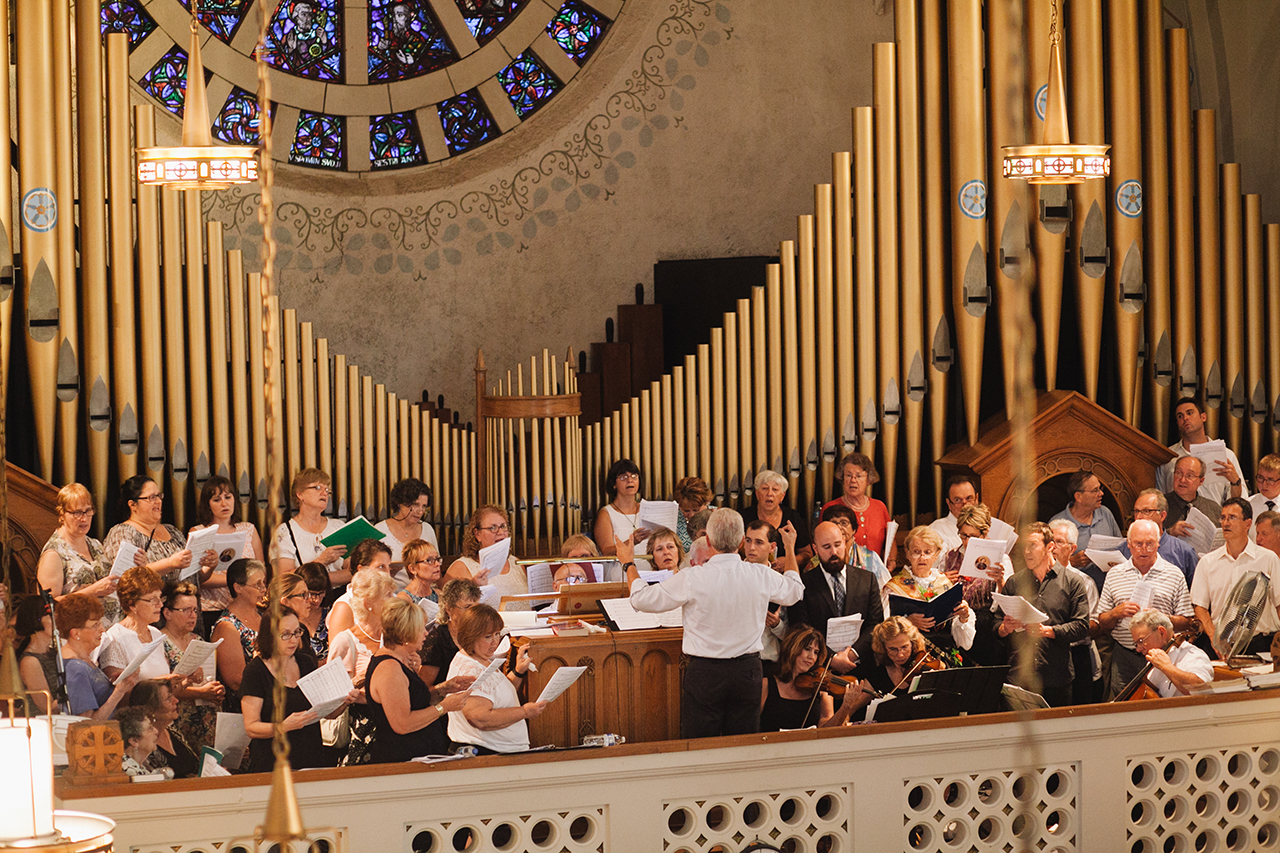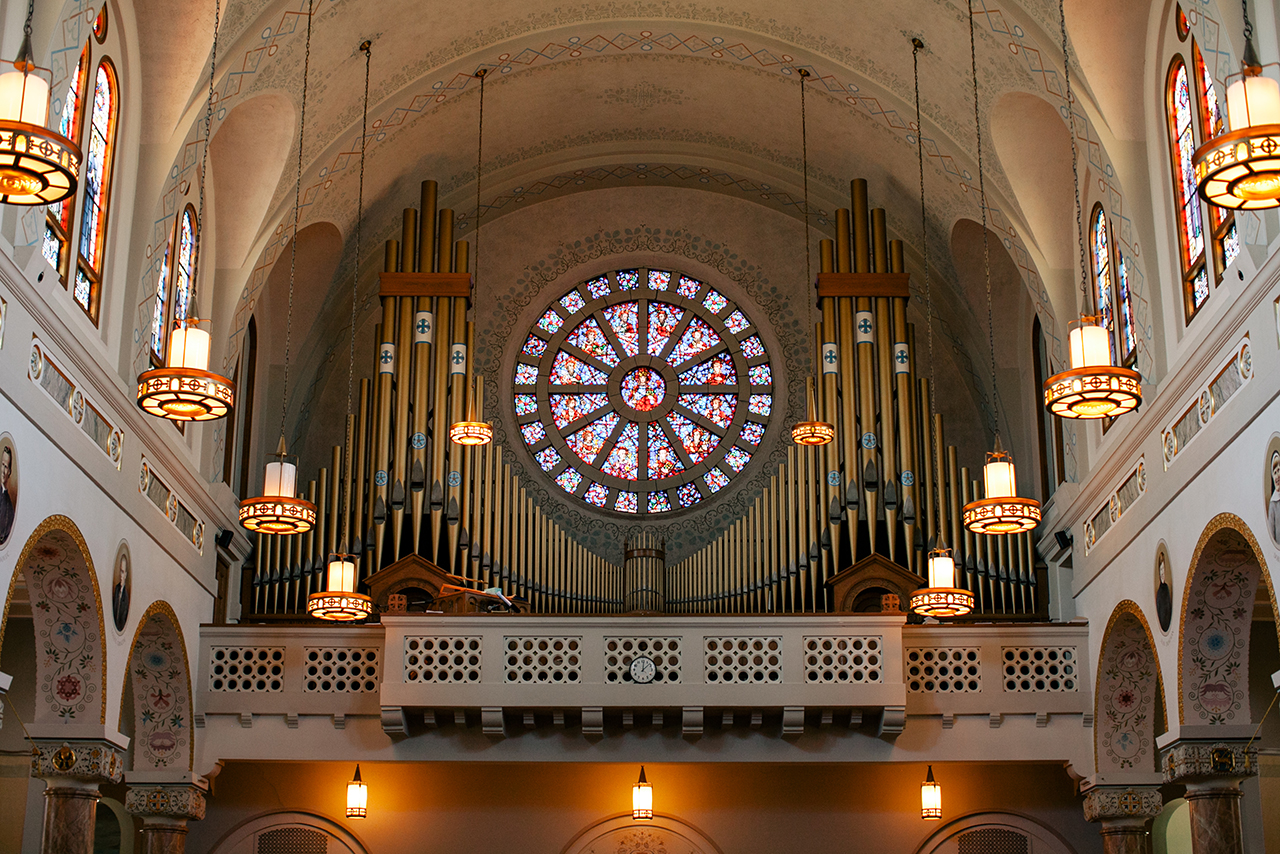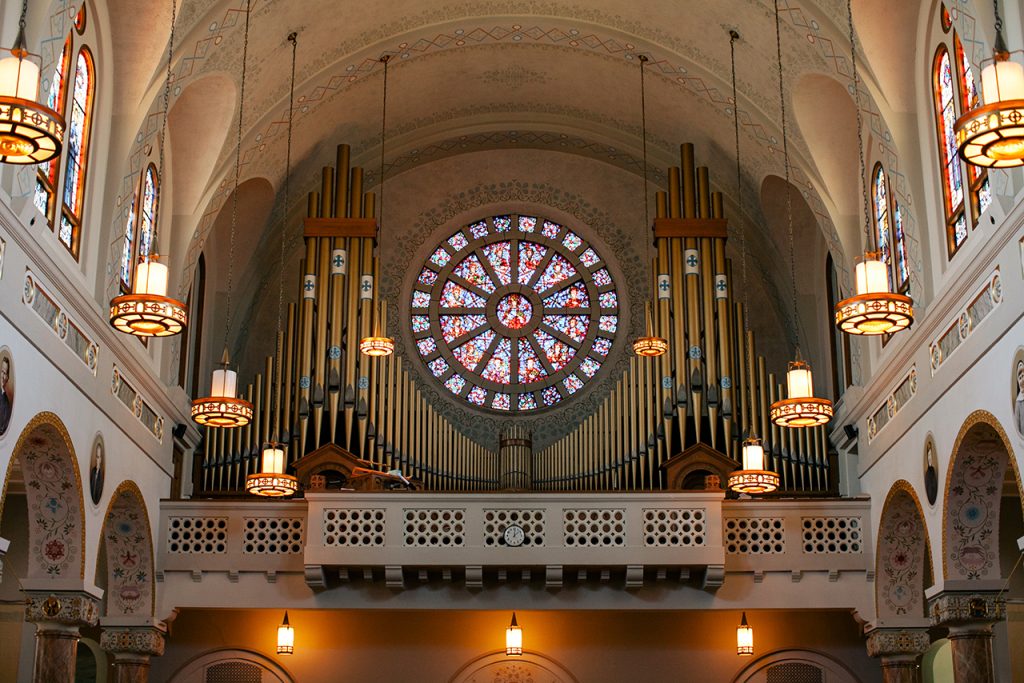 One of the oldest parish organizations, LIRA was established in 1912 by Msgr. Ponikvar to provide singing during the Mass or other para-liturgical services. The first choral director was Matej Holmar, followed by Peter Srnovrsnik, Martin Kosnik, Peter Johnson, David Krizan, R. Frank Coffelt, and – currently – John V. Srsen. All the choral directors have been able to play the church pipe organ. LIRA has performed at concerts, operettas, and on various radio stations. LIRA members provide singing for the Sunday 10:30AM Mass as well as lending their voices at other parish para-liturgical services such as Litanies. Membership is opened to any individual willing to lend his or her voice.
In 1968, the St. Vitus 9 AM Choir began with Kathleen Avsec and Rose Zupan. Playing guitars, they lead St. Vitus School children at school liturgies. This evolved by 1971 with Jerry Zupan formally conducting high school and college-aged individuals' singing at Mass. In 1977, John F. Srsen accepted the position as choral director for the "Youth Choir." Since then, Mr. Srsen has been the principal musician and choirmaster at the 9 AM Mass as well as the director of the choir at other para-liturgical services; this includes such the annual Tenebrae service held the evening before Holy Thursday, at which choir members sing in English, Slovenian, and Latin. During the liturgical seasons of Christmas and Easter, the voices of choir members provide harmony to many traditional sacred songs. Membership is open to any person, including young children. Mr. Srsen is also the volunteer choral director for the parish Saturday Language School.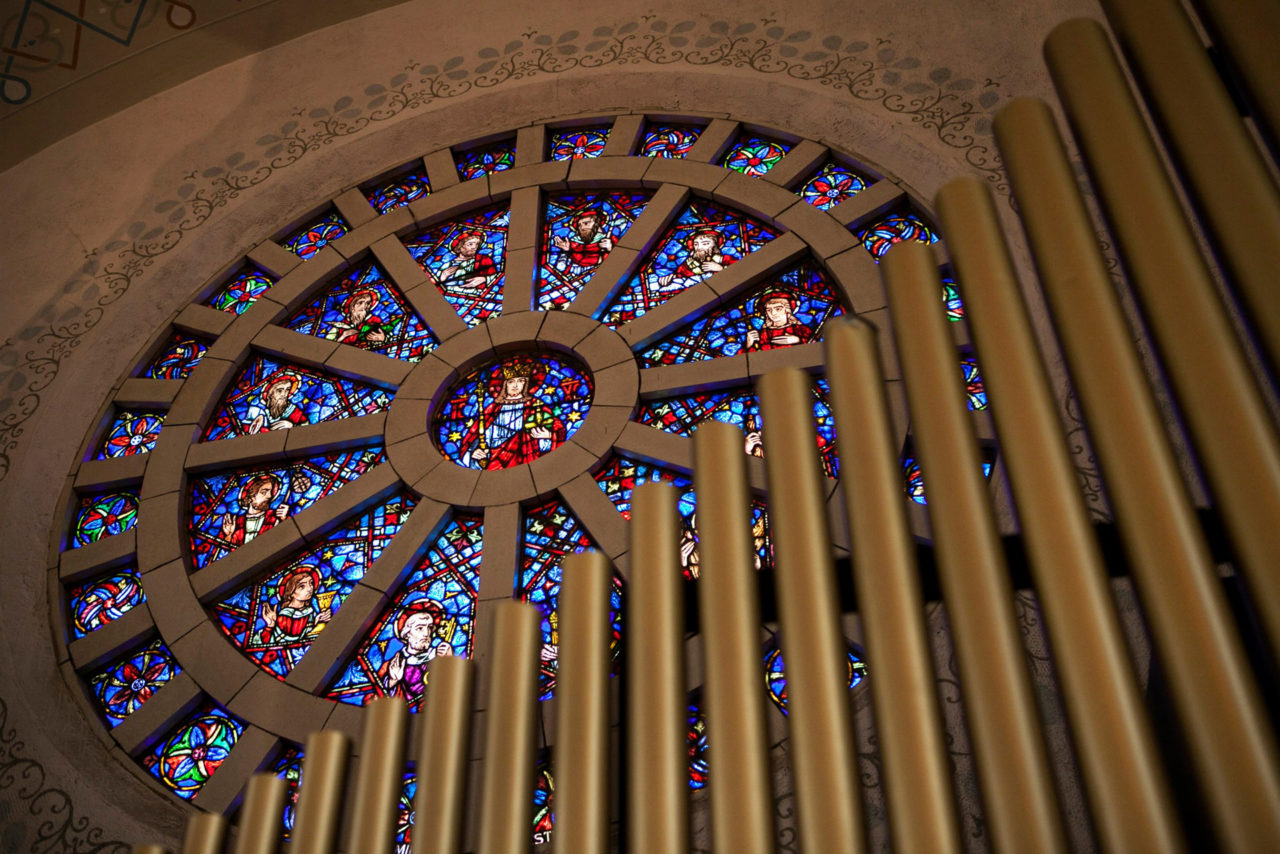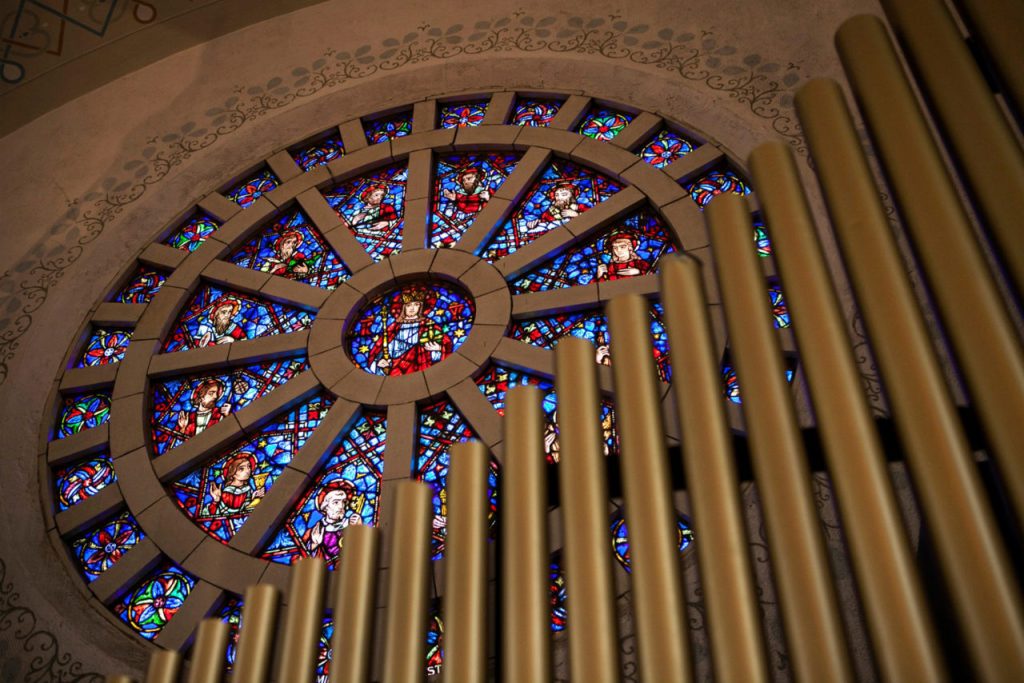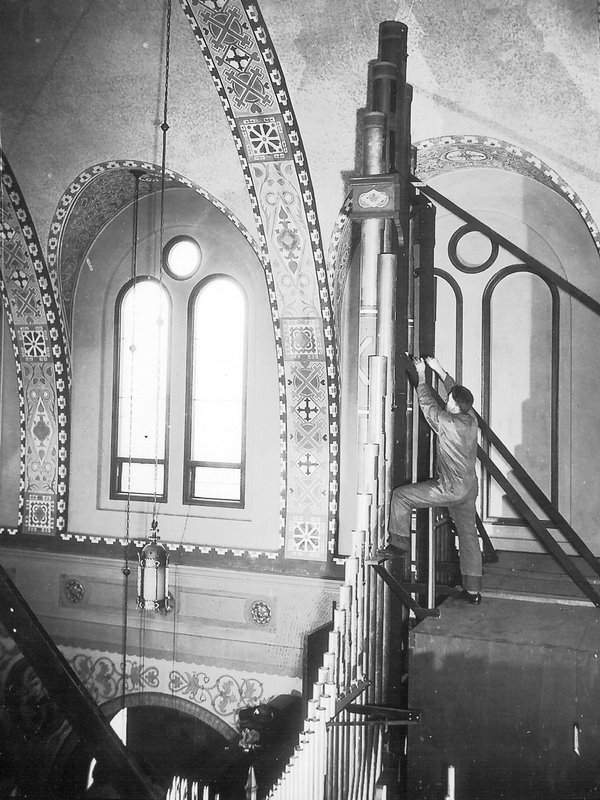 What makes St. Vitus' Holtkamp organ so unique?
Chris Holtkamp (CH): The organ precedes a series of three organs in my grandfather's new style of building. Basically, it took the organ out of the chambers or closets, in which they were typically placed in the 1920's and 1930's, and instead put the organs out in the room so that there wasn't any acoustical impediments to the sound getting out. If you put something in a side-chamber or closet, what happens is that the sound gets filtered. Most of what you get when it's in the chamber is a lot of fundamental [tone], but not a whole lot of color.
John Allen Ferguson, the guy that wrote the biography on my grandfather (Walter Holtkamp: American Organ Builder), said there were five organs between 1933 and 1934 that were the first instruments that fully represented that change. One of them, which is still in existence, is in Covington, Kentucky. Another one was at Miles Park Presbyterian Church, on Cleveland's south side at that time. However, [St. Vitus'] was the direct predecessor to them. When you listen to the organ you hear a lot of sounds that are characteristic of organs in chambers. But you also hear a lot of sounds that are headed in the direction of the sound that organs in the open church produce. The biographer says that this started in 1934, but these [photographs & documents] show that it was completed in 1932. That shows that it started a number of years earlier, and it shows how purposeful my grandfather was in what he was designing. The change didn't just happen with those three or four organs. It happened before them.
So although it's not known as having an important place in the history of organ building in North America, it does. The Organ Historical Society had a convention in Cleveland just before the St. Vitus organ was restored, and the American Institute of Builders is going to have a convention here in a couple of years, in Northeastern Ohio. The Institute we're having here in a couple of years should hear [St. Vitus' organ].
Is this a picture of the original installation?
CH: This is a picture of the sample pipes that they put up. I didn't really notice this until I had spent quite a while looking at the specification, and looking at those pictures and looking at the contract. It took me awhile to put two-and-two together – what those pipes were and that actually they're referenced in the contract:
"Specification for St. Vitus Church, Cleveland OH, for Rev. B. Ponikvar of a three manual and pedal Catholic Church pipe organ, resulting from actual tests with pipes in the church. The following stop names may only be used for tabulation. Character dynamics and pneumonic proportions have been set on the test pipes themselves and these will be used as models."
That's pretty cool. I mean, you may think I'm sort of nutso in saying that, but in terms of where it happens in the history, not only of organ building in our shop, but also in terms of organ building in North America. That's because the change is so big. If you go and listen to an organ–there's one down in Shelby, Ohio, at the Most Pure Heart of Mary–and the tone colors are totally different from what [St. Vitus] has. Totally different. There's one up in Detroit, at Mount Zion, from 1928. It too was very different. There's one in Vermillion, South Dakota–do you know how long it would take to get to Vermillion, South Dakota in 1927? The type of organ is the same, it's a Catholic Church organ, but the sound is totally different, and [St. Vitus' organ] was the first indication that we can find of [my grandfather] going in the direction of a very new sound.
(Chris pointing towards original photographs) There are also pictures of guys–the hero shots–in the organ. Pictures of the original console, which we tried to copy in restoring the console. Here's another view of the pipes. These are the actual sample pipes that were used to produce the pipes that would be in the organ. They're all from the same stops. The same kinds of pipes.
And it was all plugged into this board here?
CH: Wow, he made a freaking keyboard? Yeah! Wow – and it had a combination action.